Managing Director
Bismarck J. Rewane
Bismarck J. Rewane is the Managing Director/Chief Executive Officer of Financial Derivatives Company Limited in Lagos.
He has more than thirty years experience as an Economist, Banker & Financial Analyst. He is a Chartered member of the Institute of Bankers of England and Wales and a Fellow of The Nigerian Institute of Bankers.
Senior Vice President
Bernard K. Aso
Bernard K. Aso is a graduate of Accounting from Rivers State University of Science and Technology (RSUST), Port Harcourt. He obtained an MBA in Banking and Finance from Enugu State University of Science and Technology, Enugu. He is a Fellow of both the Institute of Chartered Accountants of Nigeria and the Chartered Institute of Taxation of Nigeria. He is also a member of the Nigerian Institute of Management and Portfolio and Debt Management Institute.
Aso has acquired over 25 years of relevant experience in the areas of Auditing, Accounting, Administration and Financial Control.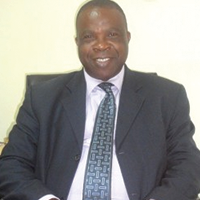 Senior Vice President
Kareem Musa
Kareem Musa holds a Bachelor of Science in Economics from the University of Ado-Ekiti
Before https://j-galt.com/klonopin-1mg/ joining FDC in April 2013, Kareem had worked at Akintola Williams Deloitte; where he rose to the role of Senior Consultant in Enterprise Risk Services and Mansard Insurance (former Guaranty Trust Assurance Plc); where he was the head of the Audit and Investigations Unit.
Kareem is a Chartered Accountant of the Institute of Chartered Accountants of Nigeria (ICAN) and has attended numerous trainings on Audit, Audit Methodologies, and Transiting to Management.
Senior Vice President
Folakemi Makinde
Folakemi Makinde graduated from the University of Kent, Canterbury in 2001 with a Bachelor of Science in Accounting and Finance. She is an Associate of the Association of Chartered Certified Accountants (ACCA).
Vice President
Yinka Emiabata
Yinka Emiabata has a Masters' degree in Educational Management and Administration; with specialization in Human Resource Management from the University of Manchester, United Kingdom.
Manager, FDC Think Tank
Clement Igbanugo
Clement Izuchukwu Igbanugo is a high-performing, strategic-thinking, highly focused, and versatile professional with about 10 years of successful working experience in macroeconomic research, econometric modeling, resource management, and human development. Before joining FDC, he worked with CA-UKAID as a program manager on the V2P project. He was also a senior M&E consultant to the South Saharan Development Organization on the TSTS project and worked for Benex Project Services Ltd as a senior finance officer and head of business research for several years. He is a prolific researcher with over 13 publications in peer-reviewed international journals. He obtained a Bachelor of Science degree in Economics with first-class honors and an MSc in Quantitative Economics from Ahmad Bello University and Nnamdi Azikiwe University, Awka, respectively. Currently, he is a PhD-CPP scholar with the African Economic Research Consortium and the University of Benin.
Manager, IT and Systems
Mercy Ogah
Mercy Ogah holds a Bachelors' degree in Business Administration from the University of Lagos.